New American Banjo Festival
The New American Banjo Festival
New American Banjo Festival
Festival Concert, April 23, 2022
Shea Theater, Turners Falls, MA and Live Streaming
Thank you:
The 2022 New American Banjo Festival was a huge success due in large part to your efforts. Thank you for all of your support and hard work!
We give thanks to these people and organizations:
Our Sponsors
Nixworks

Greenfield Cooperative Bank

RiverCulture

The Shea Theater

Allyance Productions

Massachusetts Cultural Council for a Festival Grant

The Local Massachusetts Cultural Councils of

Bernardston

Buckland

Charlemont-Hawley

Colrain

Conway

Montague

Northfield

Shelburne

Warwick
Newspaper Media articles
Sheryl Hunter, Sounds Local, The Recorder

Easton Smith, The Montague Reporter
Radio interviews
Kevin Bazan, Bear Country 95.3

Joshua Landes, WAMC
Volunteers
Heather Quinn

Doug Selwin

Lindy Whiton

Jan Mahar

Katie Clark Waddell
Attendees and Donors
Thank you to everyone who attended the live performance at the Shea Theater and to Live Stream Donors.
Ticket Links:
Schedule:
7:30 Aaron Jonah Lewis
8:45 Michael Nix and the New Classic Banjo Project
Contact: Michael Nix
413-772-0328
The New American Banjo Festival will take place, April 23, 2022. The Festival Concert will take place live at the Shea Theater Art Center in Turners Falls, MA, and streamed live. The New American Banjo Festival will explore interesting and unique performance styles old and new; has a historical and cultural component, focusing on the banjo in New England and beyond. This year's focus is on Classic Finger Style Banjo. There will be an admission fee for the live concert. The live stream is free, but donations will be accepted.
Performers for the New American Banjo Festival are Aaron Jonah Lewis, a classic finger style virtuoso from Detroit performing music from the ragtime and golden classic banjo eras; and Michael Nix with Chris Devine and Joe Fitzpatrick performing new compositions and arrangements from his New Classic Banjo Project.
NixWorks and Allyance Productions will facilitate the streaming performances. Detailed information on artists, presenters, schedule and registration can be found on the festival webpage at /p/1033/New-American-Banjo-Festival, and on the Facebook page at https://www.facebook.com/NewAmericanBanjoFestival.
Sponsors for the festival are The Shea Theater, RiverCulture, and Greenfield Cooperative Bank. This program is supported in part by a grant from the following local agencies, which are supported by the Mass Cultural Council, a state agency: Bernardston, Buckland, Charlemont-Hawley, Colrain, Conway, Montague, Northfield, Shelburne, and Warwick,
For more information contact Michael Nix, mnix@nixworks.com.
New American Banjo Festival Artists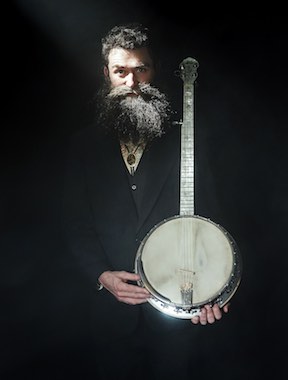 Aaron Jonah Lewis
Classic fingerstyle virtuoso music for banjo
As a banjoist, Lewis explores some interesting veins in the roots of Old Time, Bluegrass, Ragtime and Jazz music through his newest recording, "Mozart of the Banjo: The Joe Morley Project." This project is devoted to the music of the great English prodigy and virtuoso composer Joe Morley (1867-1937), who wrote a significant body of great banjo pieces in a technique that people today call "classic fingerstyle." Greg Adams, Archivist at the Smithsonian Center for Folklife and Cultural Heritage, says, "Lewis is one of the few performing musicians with the facility to build compelling musical bridges between the printed banjo music and techniques of the 19th century and the instrument's journey into recorded sound by the turn of the 20th century."
Michael Nix
New Classic Banjo Project
Banjo innovator and composer, Michael Nix designed the Banjar; a modern seven string banjo combining elements of the five-string banjo and classical guitar; bringing the classic finger-style banjo of the late 1800's into the twenty first century. He initiated the New Classic Banjo project to Compose, commission, record, and perform new works for the classic finger-style banjo.
Nix performs on classical guitar, banjo, and mandolin throughout the United States and Asia, and he has recorded for the PBS series "American Experience", independent documentaries, and numerous CD projects. His compositions are performed internationally. His music has been heard on "Weekend Edition", and other NPR programs. Recently Nix performed his compositions at the Smithsonian Museum of American History, and participated in Seegerfest 2014, commemorating the life of Pete Seeger.
Our Sponsors